Review: BOOQ's Python™XM[system] Laptop Backpack

BOOQ's Python XM[system] centres around the Python XM backpack, and includes a Vyper laptop sleeve for your notebook itself as well as an Anaconda 5 accessory case for your cell phone, smart phone, iPod, or whatever. The [system] is a great bundle. Though the bits are available on their own, together they make a great deal of sense and of course come at a bit of an overall discount.


"The Acme of Cases"


Okay then, basically, this is the best danged laptop backpack, bar none, I've ever touched, let alone used. Truly amazing. I know that lightens a bit of the review's punch early on, but BOOQ's Python XM[system] is stunning.


This is a shock and awe case. The heaviest grade ballistic nylon I've ever seen not wrapped around a Kevlar core and sporting ceramic plates. Finishings I normally stress over, amply padded bottoms, sturdy zippers, great strappage, orange highlights, they're all here in a way and with a quality that I can certainly say makes this the acme of cases.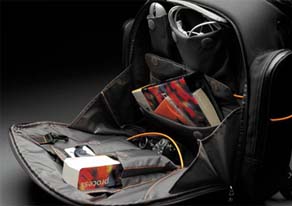 BOOQ claims that there's room for a stack of books 5-inches high in the cargo area, and that is definitely NOT an exaggeration. I have carried seven thick hard cover books (Tecumseh's Bones, History of the Book in Canada: Volume One,
From Rogue to Everyman, Mark's Other Gospel, Yellow Crocodiles and Blue Oranges, The Future of the Page, and Deflating Information), my ledger, lunch container, and a pair of shoes home in it as well as all my usual collection of cables, pens, disks, and rechargers with no feeling of being cramped. I have not found myself once hand carrying any reasonable accesory since I started using this backpack. Okay, bags of groceries, no, but everything else I tend to want to carry with me has found a home in one pouch or slot or another. I've lost track as to just how many compartments it has. Why, there's even a very well thought out, integrated iPod pocket built into the Python too. Now that's complete!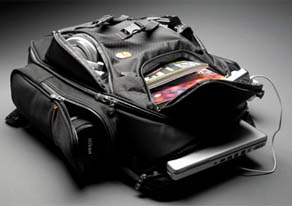 Very special and something I've not seen before is the laptop slot which opens at the top of the backpack and into which you slide your notebook. It's not just another gaping pocket but is rather targeted just for your laptop, whether it's its in Vyper sleeve or not. The slot is spacious, soft lined and is surrounded by an envelope of high density foam so substantial that the bag itself stands up (elegantly, mind you) on its own as a result. There's space in there for even more magazines and papers if you want, but with the cargo area I mentioned above, you won't really need to crowd your laptop.


I look good just sitting next to this bag. From the stares I get on the bus, I fancy that I'm the envy of my commute, though that just might be my Canterbury Tales necktie. Or the power-breakfast blueberry skins stuck between my teeth. Regardless, BOOQ's visual style blows anything else I've seen on the Number Two bus completely out of the water.


The Python XM is sized as a "Large Capacity 15-inch Laptop Backpack", but if you've got another model MacBook or PowerBook, check out BOOQ's laptop wizard for your best options. BOOQ has another backpack, the 'slighterer' but still awesomely impressive Boa, the Folee conventional laptop bag, and a vertical shoulder bag, the Mamba, as well as an XL version of the Python for 17-inch laptops.


Oh, and if you're worried about carrying a tonne of stuff in your backpack, I found the Python's strap and harness array the most comfortable I've ever worn. Weight is well distributed across wide, padded belts and straps. A lot of the heft and volume is handled in the Python by its spreading wide rather than deep, which keeps everything you care about closer to your center of gravity. As result, you're far less likely to whack someone on crowded public transit if you turn about sharply, and all those books you're carrying won't drag you down so quickly.


This case is not a cheap in any sense of the word. The [system] lists at $239.99 US, though the Python XM on its own is $179.99 MSRP. Its construction and design justifies the cost however. This case is a sports car, not a minivan. As I said, expect to pay sports car price but you will get sports car quality. If I had to give this backpack a grade, I'd give it a 93% without a sweat. There are always possible improvements for any product—and built-in iPod conrols, integrated solar cells and a dedicated storage battery are just a suggestion—but the Python XM[system] is so close to perfect that it's not funny. Bravo Zulu, BOOQ! Well done!