CleanApp, A Better Way To Remove Applications
OS X is a beautiful, sophisticated and advanced operating system, enough to make larger companies copy some of its adoring ways, but the one major area lacking within OS X Tiger that we all hope Apple address in their up-coming release of Leopard next year is the feature of an un-installation wizard.
We all know Apple's way of installing programs is pretty straight forward; either simply dragging an application into the Applications folder, or by following a wizard which does all this for you. But when it comes to removing these applications, you'll need to search through the directories on your computer to delete those apps – and simply removing applications from the Applications folder won't always be enough.
Although programs may appear to be stand-alones, you'll actually find that nearly all of them have their settings, preferences, cache and plug-ins (to name a few) stored in other locations on your hard-drive. An experienced user could most probably find these, but unfortunately not all of us have degrees in Apple software. So what's an application-removing fiend to do? Download a third party app to do the work for you.
Earlier this year, Devanshu Mehta reviewed an application called AppZapper that effectively removes programs and their remnants from your computer by simply dragging the unwanted application into AppZappers blender, so to speak. However, Synium Software updated their very own CleanApp to version 2.1.0 late last week so I thought it was about time to give it a write up and see if it can kill off AppZapper.
The features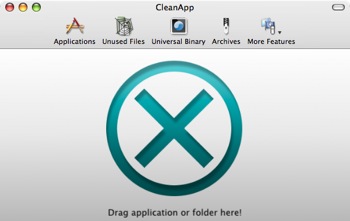 Applications - Every application present on your computer, including some you probably didn't even realize exist, appear here after a quick scan of your computers hard-drive. From here you can select individual files from within those applications that you wish to delete. I think this part should be headed with a warning message to inexperienced users who may accidentally delete part of a program, thus ruling it out from working properly at a later date.
Unused files – This section allows you to check the date of the last time a file was opened and lists it for you to decide whether to delete. I was actually surprised by how many files I've got that I don't use.
There's a size-to-age relevancy bar which allows you to list your files according to either size or age, dragging somewhere in between will mix and match. Simply select which files you want to delete followed by delete.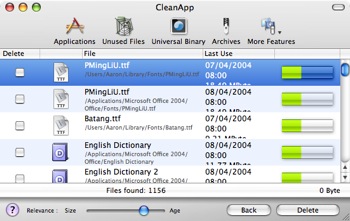 Universal Binary Cleaner - Allows you to select Universal Binary applications and find unused parts for it, allowing you to free up more space from a program without actually deleting it.
Archives - CleanApp packages contain compressed backups of your applications and appear here. Should you ever require your programs back, you can easily reinstall with all the settings intact at a later date. Obviously storing these files on your computer would be defeating the object of this program, so it gives you the option to upload to your .Mac account or burn to disc. I do wonder about the legalities behind this - would it be possible for someone to create a backup of Adobe Photoshop and, rather than upload it to .Mac, upload it as a bittorrent for someone to download at a later date? I suppose this would be no more impossible than simply uploading an entire DVD installation of Photoshop though.
More features
Clean Caches - A couple of other features present under the 'More Features' tab is the ability to clean program caches. Every program on your computer has a cache memory. Cache memory can be anything from cookies in your Safari web browser to a list of previously searched locations within GoogleEarth. Although you wouldn't notice this directly, if you use programs regularly and have a lot of programs, the cache that these generate combined can be enough to use up valuable hard-drive space. I don't use an awful lot of programs but my cache alone came to just under 1GB - that's all clear now.
System Accessories - Within this tab you'll also find something that beats AppKiller down to the ground, the option to list all the system accessories you currently have installed. What are system accessories? These include your plugins (Flip4Mac WMV for e.g.), all your self-installed widgets, screensavers and any third party programs that have been installed that enhance your system in anyway, such as ShapeShifter or Synergy. To delete these files normally would include you rooting through directory after directory from within your hard-drive, and even then there's no guarantee you'll find and delete the files safely.
The interface
CleanApp features a coca-like interface to match most other OS X applications, so it fits right into the system. The layout is incredibly easy to use with no unnecessary buttons being dropped in to make things harder for novice users. Programs you don't want are simply dragged into the main screen and removed from here, much like AppZapper, there's nothing difficult about it at all. As mentioned above, you can either delete the programs right out or simply archive them to be uploaded to your .Mac account or burnt to disk, just in case you want to reinstall your program at a later date – nothing like a good backup option is there?
Summary
AppZapper is a good program and removes applications well, but it doesn't have the extra features that CleanApp does whilst still remaining ridiculously simple to use. The backup option (Archive) is an excellent way to prolong the life of this wee program and it's good to be able to remove unwanted widgets and plugins with ease without having to search through your system to do it manually. Want another reason to buy CleanApp over AppZapper? It's $2 cheaper. Okay, it's not a great deal of money but you're paying $2 less for almost double the amount of features available.
As mentioned, Synium Software just recently updated CleanApp to version 2.1.0. You can download at the following website for a free trial before paying just $10 to unlock your copy.
Download: http://synium.de/cleanapp/index.html
Cost: $10
Size: 2.9MB
Requirements: Mac OS X 10.4 or newer
Rating: 8/10