Using Mail's Stationery for Seasons Greetings
Some people frown upon sending holiday cards and other stationery by email, but I say those people haven't caught up with the changing times. Digital cards can be just as personalized and well meaning as any card you purchase from a store. Plus, they're a huge money saver.

Though it hasn't been much talked about since its introduction, Apple's Stationery feature can be a quick useful way to send out holiday cards. But the default templates for holiday greetings are pretty limited. If you're looking for the additional options, Equinux has recently released Vol. 2 of their seasons greeting stationery pack, which features 21 templates. Volume 1 contains 12.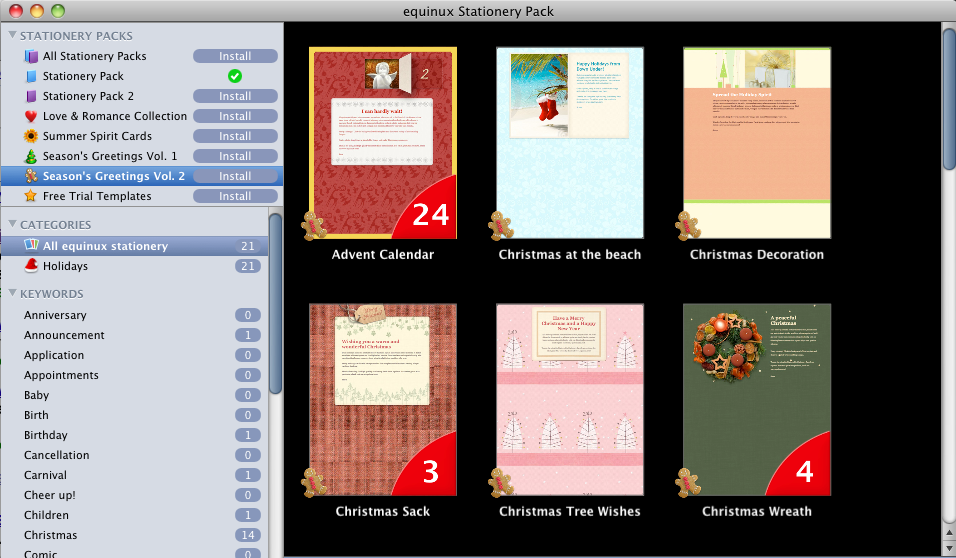 I prefer the templates that allow you to include customized photos, which I think personalize the stationery a little more. The text space of all templates, of course, can be changed and customized.

Two current holiday templates come installed in Mail. You can access them by starting a new mail message and then click on Show Stationery on the right side of Mail's toolbar. From there, you scroll down to the Holidays category and select a template. The Equinux templates work the same way, except they come installed in a separate browser.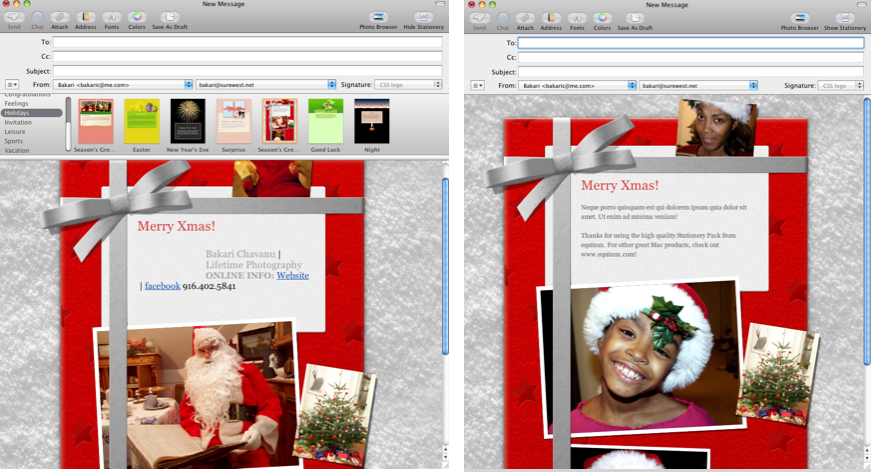 If your selected template allows for it, you can click on the Photo Browser in the toolbar and fill an image placeholders with a photo. The browser will access photos in your iPhoto and Aperture 2.0 applications, but you can drag any image file from the Finder.

The background colors and textures of the templates can't be changed, but some of the Equinux templates include variations of the same design, which typically changes the background color. If you have some knowledge of HTML, you can dig into the Stationery resource files (Library/Application Support/Apple/Mail/Stationery) themselves and further customize existing templates, or create new ones from scratch. Here's one tutorial to help you get started: Easy Customizing of Apple Mail Stationery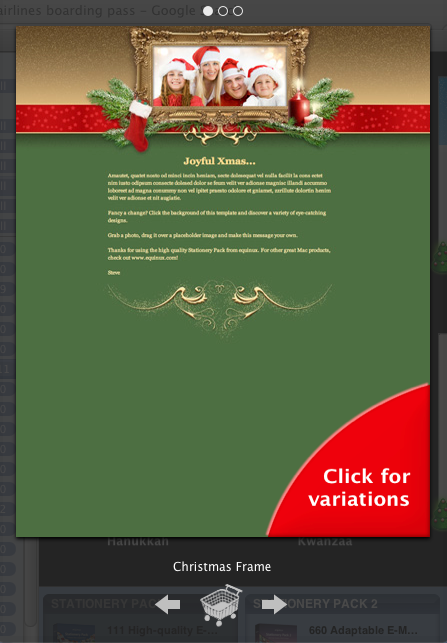 The Equinux holiday pack also includes templates for Hanukkah, Kwanzaa, New Years, as well as Christmas greetings. You can download the pack and preview them before purchase. Equinux provides a set of free trial templates as well.
The wide variety of their templates should be enough for almost any type of greetings and occasions. The prices for the current seasonal volumes go from $9.95 to $14.95. The templates are included in a separate browsing software which breaks up all the Equinux templates into categories and allows for keyword searching and filtering. This keeps your default Mail stationery browser from getting bloated with templates you may never use.
Sending stationery from Mail does mean that you're sending an HTML page, and it might not download well in some email clients, or your stationery mail could get rejected. So if you're using the stationery for business purposes, you might want to take that into consideration.
I've used Mail's stationery several times for business purposes and haven't had any complaints. I've also created single web pages in iWeb, uploaded them to my Mac server, and then embedded one (using Safari's Mail Contents of this Page) in an email message. The embedded web page approach seems to work a little better, but it takes little longer to prepare than using the Stationery templates.

Apple doesn't say much about its Stationery feature. Maybe it's not worth talking about? Let me know if you have used any of the templates and how well they have worked for you.