Where Is The Best Place To Buy A Mac?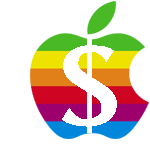 Us loyal Mac users can be a strange breed. We slap Apple logo bumper stickers on our cars, use our Powerbook in public wherever we can, proud of the shining light emanating from the Apple logo. Heck some of even get tattoos! And we have always been conscious of where we buy our Macs. We have been encouraged in the past to go into stores that sell only PC software and ask if they have any Mac software.
Which leads me to this question, for the Mac user who is concerned with supporting Apple in every purchase they make where is the best place to buy a Mac?
In the pre-Apple store universe I always thought it was best for Apple to buy the computer from a retailer. Comp-USA's success helped to build the Apple brand more than ordering from MacZone because my purchase helped ensure that the Apple boxes stayed on the shelf for all the world and PC-buying drones to see. Maybe one of them would see a Mac on the shelf, try it, and see the light.
The Apple retail stores inevitably complicate the issue. The stores, after-all, feed directly into Apple's bottom line so buying from them seems to make sense. It also helps ensure that that Temple to Apple, the Apple store, will remain in the Malls near us, presenting the Apple product and brand better than anyone else.
But what is more beautiful a platform for a new G5? A glass table in a wonderfully lit Apple store or a drab counter in a local Best Buy? Buying from chains such as Best Buy helps keep Apple out there in the public eye, not just within the cloistered confines of the Apple store.
Then there are the many online outlets, from amazon.com, to the great Mac-specialist retailers like Smalldog and my personal favorite, Powermax. These smaller retailers (online and offline) provide a lot of expertise and have the same passion we do about Apple.
Maybe it doesn't really matter where you buy a Mac, after-all the days of the struggling Apple economy are well past us now. What do you think, where is the best place to buy a Mac?