iPods, Profit Pods, Tight Pods, and Podiatrists
Apple recently flexed its legal muscle against two smaller companies over its use of the letters "pod" in its product name. Apple has sent letters to Mach5products.com, which vends a data collection device for vending machines called Profit Pod, and to TightPod which manufactures laptop covers.
Legal experts contend that such letters are not unusual, though the wording of the letter Apple sent is a tad extreme:
"We believe there is confusing similarity between Apple's iPod mark and the Profit Pod mark. Both devices receive and transmit data, and are used with computers, both are used in connection with video games, and both have other similar components. Moreover, it has not gone unnoticed that, like Apple's iPod device, the Profit Pod product is a small, flat, round-cornered rectangular device with a display screen."
A few points need to be made. First of all, the Profit Pod may be used in conjunction with video games, but since when is the iPod used in conjunction with video games? Also, while both devices are small, flat, round-cornered rectangular devices with display screens, tell me if you would get confused between them: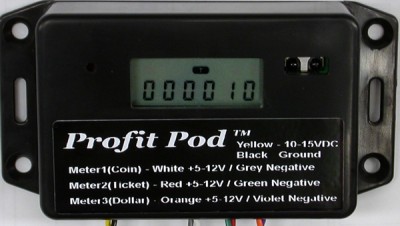 I didn't think so. On the other hand, the TightPod may confuse some people. It covers laptops and, according to it manufacturer, is more like underwear. And it looks like this: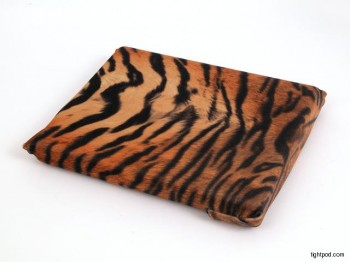 But I'm sure the fact that it rhymes with iPod is enough. I can imagine the conversation in the dorm halls now:
Kid #1: Hey I just got myself a new TightPod for my laptop. It's tight!
Kid#2: Cool. Is it the video one?
Kid#1: No, it is more like underwear.
Kid#2: Oh cool, does Apple make boxers or briefs?
In the past, Apple has also sued Spodradio, but it's still up and running. In case Apple's legal strong-arming is successful this time, I have a few lucrative targets for it in the future:
Pod People
Jim Henson's little simultaneously irritating and adorable creations must be the first to go. They are helpless, small (like the nano), easily captured (stolen like an iPod) and accept small amount of input and output. Oh yeah, and they are used in conjunction with a board game.
P.O.D.
P.O.D. is a California based rock band and boy, are they in for trouble. While they claim the acronym stands for "Payable on Death", they clearly are cashing in on the iPod name. They are used in conjunction with music, usually dressed in black, and were produced in California. To quote Apple's legal letter, this has "not gone unnoticed." I smell a law suit.
Podiatrists
Feet doctors of the world, beware. Apple is on to your schemes. For far too long have podiatrists gotten away with abusing the solid brand awareness of the iPod for their own sole-saving scams. Podiatrists dress in white coats, carry stethoscopes like earphones and, just like that broken iPod you just kicked across the room, are used in conjunction with feet. I smell a… wait, I smell feet!
Amoeba
They may have been the first living organisms on the planet, but that doesn't mean their pseudopodia are legit. These "nano" eukaryotes think they have gotten away with their "pseudo" pod. Well we are here to tell the world that pseudo means false. False Pods is what they are. And don't even get us started on Lobopodia, Filopodia, Reticulopodia and Axopodia.
Clearly, the Apple legal department will be busy for quite a while.