Pages: A Dusty Diamond
When someone asks, "Why do you use a Mac?" an incredulous "Why wouldn't you?!" is a good answer.
I say the same of Apple's Pages. If you're not using it, "Why wouldn't you?!" (No getting funny on me and saying "Because I use Indesign". If you do, well and good, but like pro-musos find Garageband useful, you might also find Pages useful.)
But of course you may have had a look at Pages and decided for what ever reason, it didn't meet your needs. Look again. Give yourself time to explore its depths and discover its power in its simplicity.
And if you never bought Pages because you didn't think you needed to. You do.
Change isn't easy
If you already have MS Office, and think why bother learning something new, I understand where you're coming from. It is much easier to stick with what you know because to get the best out of Pages, there is a bit of a learning curve. That was my first reaction too. And until recently I'd only dabbled with it and basically left it gathering dust in the corner. But now it's in my top 3 favorite applications - along with DevonThink and Comic Life.
Change is one of the hardest things we have to deal with. Especially if it's software. Having been in IT for 20 years I've seen it over and over again. Give a user a better tool and they'll tell you it's not because it works differently to what they're used to. How often in IT support have I banged my head against that wall!
Why Pages?
Apple describes Pages as "A word processor with incredible style" But I think therein lies a problem. I think Pages is seen as simply a Word alternative, a word processor. If someone already has Word (or any other word processor), why change? "Incredible Style" does not describe the advantages of Pages. What does that mean? That it looks good?
Pages is different to Word. It's not word processor meets desktop publishing (DTP) like Word and others try to be. Pages is DTP meets word processor. It's a word processor that works like a DTP program. And it does it very well.
It does take some time learning the concepts - especially if you've never done any DTP before. But it can replace Word for the majority of word processing tasks and make them look a lot better if you so desire. Also, being on a Mac, chances are you don't already have an adequate low-end desktop publishing application.
It's not that you could use Pages, you should. It's now at version 1.02 and each incremental release has had added a little more polish. For instance, 1.02 added a thumbnail viewer for your document.
What can it do?
Pages has many useful features including:
- Repeating backgrounds such as watermarks or page decorations.
- Table of contents
- Columns, sections and layout regions
- Styles which are incredibly simple to use (maybe that's why they say "...incredible style"?)
- Thumbnail navigator of you document
- Headers, Footers, Footnotes
- Tables
- Graphs
- Graphic shapes (which can contain text, images and fills and combinations thereof!)
- Text wrapping around objects
- Object layering and hierarchy
- Media inspector for easily adding images from iPhoto
- Ability to capture page layouts for re-use
- Export to PDF, Word, HTML, RTF and Plain Text.
and the list goes on. It's no match for Word or Indesign in features, but which features do you really need?
What you can do with Pages?
Have a look at the templates. You can start using these straight away to make some stunning documents. I didn't find any useful for any of the things I've done but, visually, they are full of great ideas.
The irony is that the included templates stifle one's enthusiasm for Pages. If you are Joe Average like myself, you may try the templates and feel they don't suit, but then think you can't do anything with Pages, so drift back to Word.
So ditch the templates for now. What painter does not start with a blank canvas?
Onto a quick DIY to get you started. (I use menus in this example as your toolbar maybe different to mine, which I've customized.)
- Start with a new blank document.
- Select the View menu and Show Layout (assuming it's not already shown)
- Select the View menu again and Show Styles Drawer (again assuming it's not already shown)
The small rectangle at the top is the header area. The large rectangle is for the body of the document. You could just start typing, but let's have some fun.
- Click in the header area and type your name
- Still in the header area, press the Tab key and from the Insert menu, select Page Number
- Now click in the body area of the document
- Type a heading. eg "This is my first serious Pages document"
- Select the Insert menu and then Layout Break. Repeat this twice more
- Click on the word "serious" you just typed to place the insertion point within it and then, from the Styles Drawer, click on the style labeled Heading
Let's add some color!
- Select the View menu and Show Inspector (assuming it's not already shown)
- Click on the T icon
- Click on the More button
- Tick the Paragraph Fill checkbox and then click the color selector box to it's right
- Keeping this simple, select the crayon icon in the color dialog and the Aqua color (it's the light blue one near the middle)
- Select the Inspector again and under the T icon, click on the Text button
- Click the right alignment text icon and then the text color selector box
- Select the white crayon. The word "serious" should now be white (assuming you hadn't move the text insertion point)
Now to see Styles in action!
In the Styles Drawer, notice the style named Heading has a red triangle next to it. This means the text at the insertion point is based on this style but has been modified. (You might have to move the Inspector to see this)
- Click the red triangle and then select Redefine Style From Selection
The whole line will change to the white text. This is because Heading is a paragraph style so affects a whole paragraph. Anywhere you use or apply the Heading style will now be large white text on an aqua blue background and right-aligned.
Now for a sub-heading
- Click in the second layout area you created (i.e. the one below the heading you just made)
- Press Enter to add a line of space (makes it look less cluttered) There are other ways to achieve the same affect but you can explore and find them later.
- Type a heading e.g. "This is cool!"
- Select the Sub-Heading style, change its text color to Tangerine and redefine the style (follow the same process as above)
Now for some text
- Click in the third layout region you created
- In the Inspector, select the Columns icon
- Change the column count to 2
- Now either type, or copy and paste a slab of text into the third layout region. If you do copy and paste, use Paste and Match Style from the Edit menu
Drop an image on, shrink it down with the grab handles on its corners. Move it around and notice the text flow around it. You can change how the flow works from the Wrap page of the Inspector. Notice the blue alignment lines that appear when you move objects around? These are from God. They indicate alignment in relation to other elements on a page including margins. As I say, these are a Godsend.
Hide the Layout guidelines (in the View menu) and admire your efforts!
Don't worry if you don't like what we've done or it doesn't seem to go to plan. The important thing is you are now delving into the power of Pages. Also experiment with the other objects you can insert such as rectangles, text boxes, tables etc.
What we've done might make a real designer barf, but you're on the road to escaping the dreary documents you've been making with straight word processors. And if you keep playing around, you will end up at least wowing your family and friends.
How Pages made me look good
Look at this example taken from my resume. The page on the left was done in Word, on the right in Pages. These were done only two weeks apart, yet why does the Pages' one look so much spiffier? I didn't rush out and do any DTP courses in that time. It's just Pages. It helps you be more creative.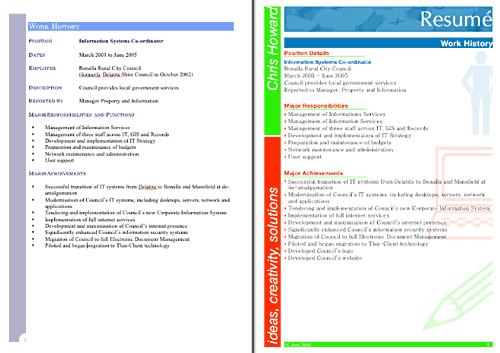 Pages is a diamond. It's just gathered a bit of dust lying in the corner where it got tossed by many who found sticking with MS Word easier.
Go get it. Dust it off. Commit to learning it and getting over that hump. Once you do, you'll be reluctant to go back. Use Pages as a word processor. Use it for desktop publishing.
Yep, sure there's going to be times you must use Word but after Pages, you'll feel like you're driving with the handbrake on. And how often do you really need 100% Word compatibility?
Sure Pages is lacking some features and has some quirks, but what software doesn't? Especially a version 1.0 release. It's still worth it though.
You're short changing yourself by not using Pages. It will bring out the best in you and make you look good. Dust off this diamond and let it sparkle for you.