Access Your iTunes in the Clouds—Thank You, SuperSync
When I stood in line the morning of the iPad release, I queried other Mac addicts like myself about what size iPad they where getting. I was surprised to hear so many wanted the 64 gigabyte model. Each of them thought they needed the larger size in order to maintain a sizable number of songs and other data on the their mobile device. Of the five people I asked, none of them said they would be traveling a lot with their device.

I simply shook my head, because it seemed as though they knew little about cloud computing. I own three bottomline iOS devices, and I have yet to max out the hard drive on either one of them. The reason is because of cloud programs like SuperSync, Dropbox, MobileMe, and Evernote. Because of cloud computing, I can easily access files over the Internet, which alleviates the need for copying several hundred megabytes of files to my mobile hard drive. The items that take most of the space on my mobile devices are apps, PDFs, and other documents.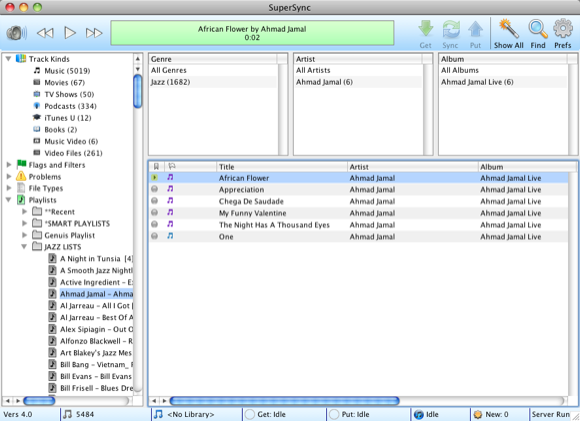 In terms of music, the streaming media application, SuperSync, allows you to quickly sync your entire iTunes library or libraries, including music, audio, podcasts, and video content, across multiple Mac and Windows PCs, iPhones, iPads, and iPod touches, via an Internet connection. The beauty of SuperSync is that it doesn't copy anything to a server. It just points you to your local and remote devices where you have iTunes content stored.

The process of syncing over 5,000 files in my iTunes library took less than a minute. Next, I downloaded SuperSync onto my MacBook Air and within a few minutes I was able to play songs from my iTunes library of desktop Mac on my Air. Apple's Home Sharing feature in iTunes only works over a local network, while SuperSync can be accessed on any computer via the Internet.

The user interface of the SuperSync is similar to but not as elegant as iTunes itself. All your playlists and smart playlists appear in SuperSync just as they are set up in your iTunes. But SuperSync also tells you which tracks in your library are missing, are possible duplicates, or could not be synced. All your metadata about each track is shown as well.

SuperSync can read a single library or two libraries at the same time. And on top of this, you can even copy tracks from your local library to your remote library, or visa versa. Of course, to copy DRM-protected music and video tracks, your local and remote computers must be authorized with one another.

If you add tracks on a regular basis, you can set up a schedule to rescan and sync your iTunes libraries for new and deleted tracks. SuperSync provides many preference controls, including a way to filter out which files you do not want uploaded.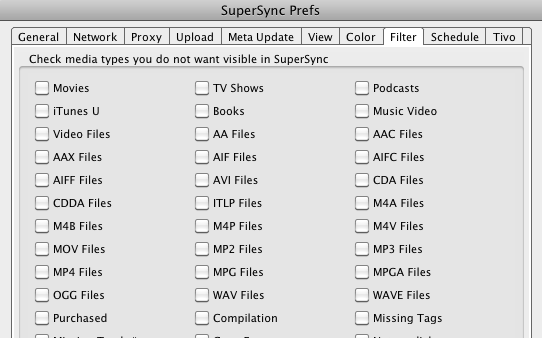 Your SuperSync upload can also be accessed online using your computer's IP address and server port, which means you can stream your uploaded iTunes library from any computer or mobile devices. However, while I was able to download my library on my iPad, it did not work on my iPhone. Folders and track names downloaded, but the tracks would not play, even after trying other assigned IP addresses. There are instructions for how to set up the connection.

Also, when accessing my SuperSync connection on my iPad, I discovered that when I tried browsing other web pages in Safari, songs playing on the SuperSync page would sometimes get interrupted. So it's better to open another web browser and play SuperSync downloads in the background.

Of course, SuperSync is not the only solution for streaming music to all your devices. I also use ZumoCast (for iOS devices only) and the Home Sharing feature in iTunes to sync tracks between devices. But these two solutions have limitations that SuperSync manages to address, so it's definitely the best solution for remotely accessing your iTunes library over WiFi. In addition, SuperSync provides the kind of cloud access to your music library that Apple will hopefully get around to doing in the near future.

You can download a demo version of SuperSync with limited access to 25 tracks per launch. The full version is $29. If you're looking for complete access to your iTunes library, SuperSync could very well be a good solution for you.