Bluethooth Pocket Size foxLv2 Speaker Provides Quality Sound
Portable wireless speakers are the best way to listen to music and podcasts—I keep them in my bedroom, kitchen, and travel bag. I've always felt that connecting wires and cables seems to defeat the purpose of using mobile devices. It seems that Apple has finally realized that too.

Recently I asked Soundmatters International to send me the foxLv2 Bluetooth Pocket-sized Loudspeaker System for review. The 9.4 ounce system looked very stylish in its press release and I wanted to see how the unit sounded and performed as a Bluetooth device.

I don't consider myself an audiophile, but listening to music on Apple's built-in speakers has never been my idea of an enjoyable listening experience. I'm not knocking the speakers on the devices I own—the iPhone 3G and MacBook Air—but speaker quality simply can't match the output of a good external sound system.

In this regard, the foxLv2 A2DP Bluetooth System is a stylish and fresh audio box that very well could please the ears of many audiophiles. For me, the system provides the right amount of bass and fidelity for the jazz I prefer. In my household, a large set of blasting speakers wouldn't do much good, because my wife, our kids, and I have different musical tastes. The foxLv2 system provides big speaker sound quality without overtaking other rooms in a house.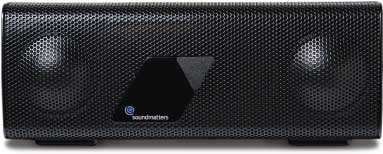 The physical construction of the unit is very solid and lightweight for traveling. Its solid black exterior complements well the similar style of the iPhone, iPod touch, and laptop computers. The unit's dimensions are 5.6" x 2.2" x 1.4", weighing in at 9.5 ounces. I have a Logitech unit over twice the size, but it doesn't match the sound quality of the foxLv2.





The on-off switch and volume controls on the foxL are in the back of the unit, which to me is not a problem, given the small size of the device. Unlike some Bluetooth sound devices, you can control the sound from your iPhone or other device. The volume controls are on the back left side and the on-off switch is on the back right. It's easy to access them without actually having to turn the unit around.

The foxLv2 system includes rechargeable Lithium-Ion batteries with a life of 5 hours per full charge. The unit also includes a very generous set of accessories including an AC charger with 4 plug-in adapters, a mini USB > USB cable, a 3.5mm audio cable, and travel pouch. The system is indeed louder when connected via the wall adapter or USB.

It's a good thing that the audio cable is included because as with the two other Bluetooth sound devices I use, distortion occurs from time to time. I'm not sure the cause of it, but having the ability to make a wired connection is a great fallback when you really want static-free sound. The manual also suggests lowering the volume, using wall power, or turning the unit off and then on, in order to deal with distortion or dropout issues.

Unlike another Bluetooth unit I own, I don't have to hold down a button in order to initialize pairing. The foxLv2 system and my portable devices discovered one another in less than thirty seconds. However, switching between devices is not as smooth. You need to disconnect one device before you can switch to another one,which can be a hassle. It would be great if you simply could switch units off in iTunes without having to open the Bluetooth preferences to make connections or to disconnect.

For heavy iPhone users, the foxLv2 system also includes a built-in noise-cancelling microphone. When you receive phone calls, foxLv2 automatically overrides streaming music, becoming both a mic and speaker when a call is answered by your Bluetooth-connected phone or computer.

As with most portable speaker systems, the foxLv2 is pricey—$199. If you're looking for at least one good unit, I highly recommend this one. For additional sound quality, you can add an external subwoofer, using the 3.5mm stereo mini-jack. The foxLv2 won't make for large party room sound, but it's a great device for travel, bedroom and office listening.