Ecto Blogging Software (v 2.1)
Blogging is huge. Thousands of people stick their toe - or more - in the blogging ocean every day. If you hang around blogging for more than a day, you'll hear of blog engines such as; ExpressionEngine (which Apple Matters runs on); WordPress which I use for my own blog and other websites; Google's Blogger; Six Apart's Moveable Type, TypePad and LiveJournal; Drupal; b2Evolution; Nucleus and the list goes on.
All of them offer a browser-based, online tool for writing and submitting posts.
But no matter who you are, if you're blogging, sooner or later you're going to ask the question, "Is there an easier way to write my posts? Like maybe an application?" And if you post often each day, a very important consideration is using a tool that increases your productivity. Is there an application that meets these criteria?
The answer of course is yes. There are several tools on the Mac platform for writing blog posts and then submitting them to your blog. My favorite is Ecto. Ecto is also cross platform, being available on Windows as well.
The developers of Ecto say:
With Ecto you can write and manage entries for your weblog(s). The advantage over using your weblog's control panel is that you can compose entries offline and use the extra features ecto offers, such as spellcheck, creating links, attachments, and much more. Ecto is designed to make blogging much easier and yet give the users as much power as possible to manage their weblogs.
Ecto In Action
Configuring a blog in Ecto is relatively straight forward, with it able to usually detect the blog engine being used on the specified domain. 28 different blog engines are currently recognized by Ecto along with the five most common programming interfaces (APIs). Ecto supports multiple domains with multiple blogs on each domain.
Once configured, Ecto loads all the blogs and posts for the site and you are ready to begin blogging, Ecto style.
Select a blog and click "New" and you are presented with a WYSIWYG editor where you can write your post, drag and drop images, import from iPhoto, insert the details of the song you're currently listening to in iTunes and even insert links to products on Amazon using your own affiliate code. (If you get a bajillion readers you can make a few dollars off that!)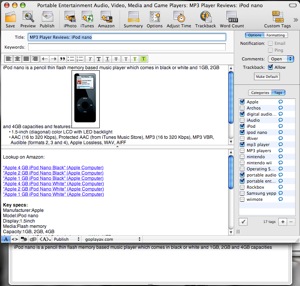 Attributes for images and links can be easily modified and categories for posts can be easily selected. Ecto also provides full support for the creation of Technorati tags in your posts with a simple checkbox list of user definable tags.
A nice feature is customizable templates that enable you to have a different template for each of your blogs, if necessary. Plus you can customize the preview template to match your blog.
A bookmark can also be placed in your browser's bookmark bar enabling you to easily create posts about a page you find interesting.
Support is provided via email and an online forum and I have found the developers to be quite responsive and helpful.
Shortcomings
Ecto is a mature product that serves me very, very well. I'd be scratching any head to find any real shortcomings in it. I have requested that in a future version, Ecto provide better handling when blog engines return a posting error. This happens when posts contain HTML tags (I put in for a Word Press plugin I use) that are not supported by WordPress.
Overall
I have looked at Ecto's main competitors and found that only Ecto came closest to meeting all my needs.
Ecto is highly recommended to anyone who is blogging—which seems to be everyone on the planet with an internet connection. It is very easy to use, simple to setup, very customizable and, most importantly, helps you get the job done faster. Because it gives you so many features over and above what any blog engine offers, if you're a blogger, you should get Ecto. 9/10