Getting Organized with Tags
It's quite easy to find stuff on your computer when a project you're working on is front and center. You might simply drag project files or folders to your dock to access them as you work. But it's when you try to locate infrequently used documents, third-party applications, and other items that you may run into problems when trying to locate items.

When it comes to file management, computer users fall into a couple of broad categories. There are those, like my wife, who have no filing system at all, and thus can't find important documents when they need them; and there are those who understand the power and ease of search engines and tagging systems for searching and retrieving items a lot faster than digging through buried folders. A tagging system of course also helps users narrow searches and group items related to one another. Such a management system is useful to librarians, information architect developers, photographers, and other professionals who need to manage and access lots of information on their computers.

Apple's operating system provides a default tagging system, via Spotlight, which I would bet is not used by most Mac users. Spotlight Comments is the place where you can label individual files, and search for them using Spotlight. However, though you can use keywords added to Spotlight Comments to build Smart Folders, there's no central browser to view all the keywords you created in the Mac OS X system. Plus the process for adding Spotlight Comments or keywords is a little cumbersome.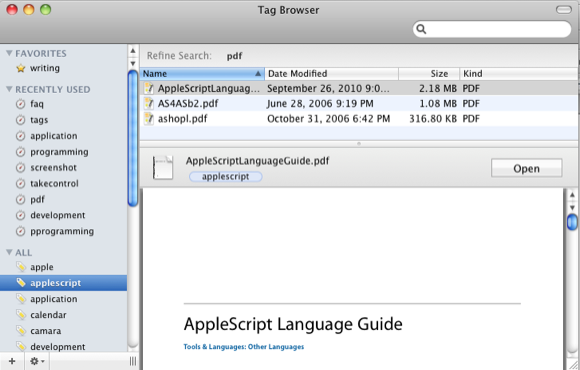 If you're looking to develop a more efficient file management system, you might consider Gravity's Tags application. With Tags, you can select any file or other item (including emails, photos, folders, and bookmarks) and apply keywords to them via the Tags Window; which can be activated via a keyboard shortcut or the menu bar of your desktop.

Unlike with Apple's Spotlight Comments, Tags allows you to select several files at once and assign them the same keywords.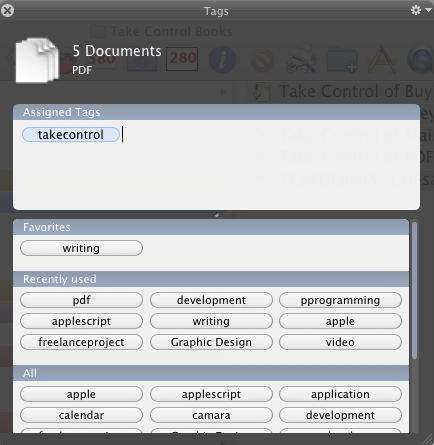 After you create and use a keyword, it gets added to the Recently Used column in the Tags Window where it can be applied to other items. Tags also includes autotext completion for existing keywords.

The key to using Tags is figuring out a system for quickly applying keywords to items without it becoming labor intensive. One way to cut down on the time it takes is to only tag really important files and projects.
I, for example, download many third-party applications and PDFs on a weekly basis. I might set up a workflow using Hazel and QuicKeys that automatically brings up the Tags Window when designated files are dropped into a designated folder. This setup would cause me to tag incoming files right after they are downloaded.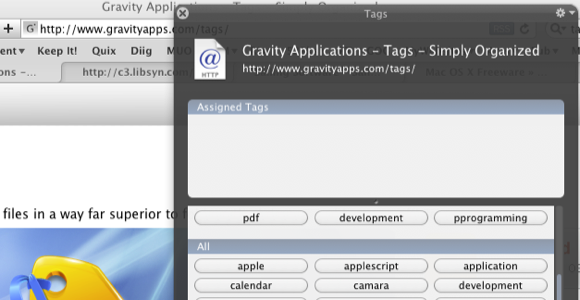 Tags also work within applications like Microsoft Office, iWork applications, Photoshop, Mail, Safari, and QuickTime. That means you can use the keyboard shortcut to bring up the Tags Window and keyword the file or item while it's opened and saved in its respective application. With some applications, Tags automatically captures in the window the file you have opened. If an application is not supported, you will need to manually drag and drop its respective icon or bookmark in the Tags Window in order to assign keywords.

It would be powerfully useful if keywords in Tags could also be accessed by simply right- or Control-clicking on a file and selecting recently used keywords from drop-down menu. This way you could tag files on the fly without having to open, tag a file, and close the Window.

If you're diligent about tagging your files, Tags includes a browsing system whereby you can view all your keywords and tagged items similar to how they are displayed in the Finder. But with the Tags system, you're not having to hunt through columns and folders to locate files. You simply click on a keyword and it displays all your items tagged with the selected keyword. You can refine your search by clicking on other keywords assigned to particular items.

Additional features of the Tags Browser include Quick Look preview of selected files, the ability to group and matche tagged items separately, refining searches and browsing of folders, and choosing the application you want to open a file with.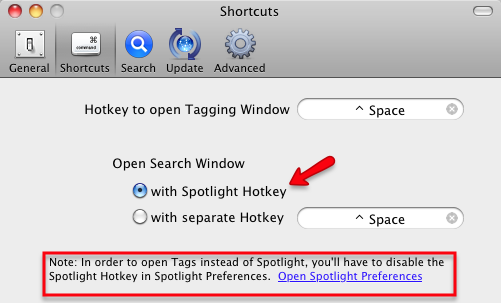 If you prefer the Tags search interface more than Spotlight, you can go into Preferences of Tags and select Open the Search Window of Tags instead of Spotlight. The Tags Search Window will perform the same Spotlight search but will also include search results of all your tagged items using Tags.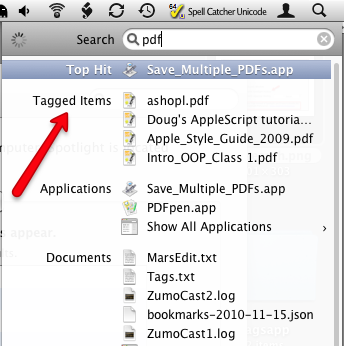 Tags is available for free trial download and costs $29.00 for a full license. It might be a little pricey, but if your workflow depends on a useful filing and search system, you might find Tags a great solution.