What Panther Should Fix: Part Seven, Shut Me Down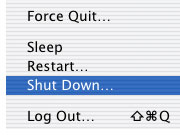 Maybe it's because I never shut down my machine in OS 9 because it always did it for me by crashing but something big has changed in OS X, the inability to shut-down. My observation is by no means thorough, just based on using about five machines with OS X, all in different environments (some at home, some at work, and some at clients who I help with their machines) but OS X simply does not like to shut-down. Like some of the other items AppleMatters has written about much of this is the fault of third-party applications and not Apple itself. Still, a computers user's experience has to be judged in the real-world where we all use third party applications.
I actually don't often shut down my Macs. My machines at home stay on until I need to restart because of an installation (often one of Apple's many updates). But when I do shut down it usually fails because such-and-such application failed to quit. Most often this is the scenario, sometimes it's the finder itself that bugs out. Now I appreciate the tenacity of an operating system that is so rock-solid that it doesn't want to quit! But the few times I have had to force shut-down by holding down the power button have not been pleasurable experiences. Inevitably when I do this the grey apple and spinning graphic stay on the screen for longer than usual letting me know what I did was not a good thing.
But OS X does not provide any other choice. Apple, let us turn off machines properly! Fix Panther so we can shut-down safely.