Image Capture Adds iPhoto's Missing Features
Image Capture is probably the most overlooked application on the Mac. But what it does are things you've probably wished iPhoto could do. Image Capture, if you've never noticed it, can be found in the Applications folder.
Image Capture and iPhoto
When you first run iPhoto it asks if you'd like to use iPhoto as the default application to open when a camera is connected. Most of us answer yes. But have you ever wanted to change that? Nothing in iPhoto's preferences; nothing in System Preferences. It is, in fact, hidden away in Image Capture's preferences.
One big advantage Image Capture has over iPhoto is it lets you see the images before you download them from your camera. (Although Apple like to keep things simple, it'd be nice if they'd more often included options for advanced users.)
Image Capture can also export photos to iPhoto, although it saves them to disk first, so there is some duplication of both the images and workflow.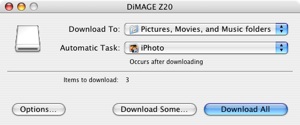 Using Image Capture with a Camera
Image Capture, as mentioned, allows you limited management of your images before you download from the camera. You can delete, rotate and preview them (but only in thumbnails to 128x128). Also, most useful, you can select some or all images for download.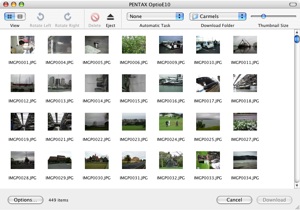 Image Capture lets you perform Automatic Tasks such as send the images to some other applications. I found Preview, Mail and iPhoto worked but Word and Text Edit didn't. You can also send to Automator workflows or include Image Capture in workflows.
Image Capture also provides a list view that displays metadata about images' Name, Date, Size, Aperture, Bit Depth, Color Profile, Dimension, DPI, Exposure, Flash, F Stop and Shutter Speed
Using Image Capture with a Scanner
Another major shortcoming of iPhoto is it doesn't talk to scanners. Fortunately Image Capture does. As with capturing from a camera, you simply select iPhoto as the Automatic Task, and Image Capture will send your scans to iPhoto. Image Capture uses the application that came with you scanner for the actual scanning.
Sharing imaging devices
Image Capture is also the place to go to enable sharing of imaging devices across a network or even the internet. This doesn't include iSight cameras though.
Overall
The features in Image Capture should be in iPhoto; however, they're not. But now you know where they are if you need them.