Make Writing Easier with Scrivener
If you are a writer, there's no shortage of applications to help the creative juices flow from mind to pen to paper – or should I say, to keyboard to screen. Be you a novelist, script writer, journalist and so on, there is an application for you to help your writing process. One I've taken a shine to lately is Scrivener.
Scrivener means "a clerk, a scribe, a notary." And that's a good name, because a true (fiction) writer is nothing more than a scribe, writing down the story told to him/her by the characters. (Writer's block comes from trying to write the story yourself)
Currently Scrivener is still in beta development, due for final release in the latter half of 2006 – Autumn/Fall in some parts of the world and Spring where I come from.
You can download a free version, Scrivener Gold, which will give you a very good idea of what to expect in the final version. It is Scrivener Gold I am using and what this review is based on.
Scrivener is aimed at the fiction writer but is useful to other writer's also because of its structured approach. And my favorite reason, it's true full screen. Because of these two reasons, I have been using it over the last few weeks for my writing for Apple Matters.
Like a lot of software for writer's, the developer is a writer and takes the best of other products plus what he thinks is missing , and combines them into his own product. Sometimes it works, sometimes it doesn't work for me. And that's what these apps are all about – what works for you. Scrivener works for me.
Scrivener in action
When you fire up Scrivener its interface is surprisingly clean. You get the impression the program is simple. But it's not. Under the hood it has quite an extensive and useful feature set. This is the way a good application should be.

Scrivener takes a structured approach to creating your work, using folders and files. It's up to you how you use this structure.
There are four predefined folders: Draft; Research; People; and Places. You can rename these to suit your needs but you can't create additional folders at this level. Within each you can create folders and text documents, and in Research, People and Places, you can also add files and link to (and display) web pages. One small shortcoming with these files is you can't launch them in an external editor which (particularly with images) would be a useful feature. In each of these four main folders you can store relevant information, such as building up character profiles in the People folder. The Draft folder serves a special purpose, being the one you should write your story in. It is the one that prints when you select the print a draft function.
Any files added are imported and so can be deleted without affecting the original. Various file types are supported including images, PDFs, MP3s and various text formats. In this version of Scrivener, adding MS-Word documents converts them to the RTF format which isn't always desirable.
Web pages are archives of the page and therefore can be viewed offline (you will need to go online to follow any links).
When creating the text documents for your work, the file format used by Scrivener is Rich Text format, which is readable by all word processors. These can be exported or the whole draft can be exported as a single file.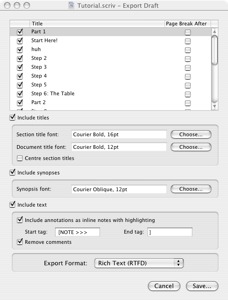 Niceties
Some of Scrivener's features that stand out are:
– Full screen editing. This is not a new invention by any means, but Scrivener has it and has a very good implementation of it. When I'm writing, as an article grows I need to see as much of it on the screen as possible, especially when I'm editing. Scrivener presents a totally clean screen but does show a scroll bar if you move your mouse to the right edge of the screen, and an information if you move to the bottom of the screen. The colors for the full screen are customizable – I've changed mine to black text on an off-white background.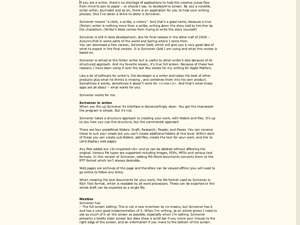 – Annotations: Highlight and make notes on specific blocks of text
– Word count and statistics: Word count is displayed at the bottom of the editing window and a statistics dialog shows more detailed information, and includes the ability to set targets.
– Notes: Make notes about the current document
– Info: Set a label, the status and add tags.
– Synopsis: Create a synopsis for each document.
– Snapshot: Takes a snapshot of the current document and allows you to roll back to it later if necessary. Snapshots are accessible from a separate window.
– Search: Documents, notes and tags can be searched
- Task List: A simple built-in To Do list manager
Overall
As I've said, these writer's tools are a personal thing, so you can make up your own mind, but for me, Scrivener is a 9/10, and I'll be lining up to buy the full version when it's released.