Outlining Made Easy With Opal
There's a plethora of outlining software out there. The best known for the Mac is probably OmniOutliner. It's feature rich and very powerful. Sometimes though, you just want to keep it simple.
If outlining is something you want to keep simple or for long time fans of Acta, check out Opal outliner.
About Opal
Opal is from the folks at A Sharp who have a 20 year history of Mac software development. These guys brought us the award winning Acta outliner, of which Opal is the OS X offspring. Opal is still in beta, but I found it quite stable and definitely usable.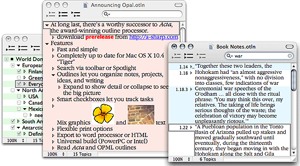 A Sharp say of Opal:
Opal is an outline processor. It lets you organize just about anything — notes, reports, ideas, lists, projects, graphics — in the form of an outline, where topics have subtopics.
Opal will be familiar to anyone who ever used Acta (or Dyno Notepad). However, it's been completely rewritten for Mac OS X.
Features
As I said, Opal is a simple application, so it's feature list is not overwhelming. As you would expect of an outliner, it allows for easy indenting, outdenting and repositioning of items.
Other features include:
- Items are full rich text fields and can be as long as you like
- Item labels can be easily changed to numbers, Harvard style, none, or custom bullets
- Checkboxes can also be pre-appended to items
- Export to Opal, Text, RTF, HTML, Word, and OPML formats
- Sorting can be done on any branch of an outline and optionally include its daughters
- A Focus command shows just the selected branch
- Zoom function
- Flexible printing options
- Show/hide checkboxes
- Multiple selection
- Topic filtering via toolbar Search field
- Auto-save
- Background colors
- RTF means items can include both text and graphics
- Can open Acta files
With its flexibility, Opal can be used for a variety of purposes, for example, as a simple to do list manager.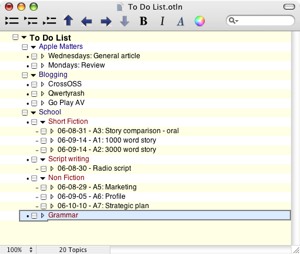 Shortcomings and wish list
It's hard for a simple program to have many shortcomings, but one I did notice is the lack of keystrokes for some functions, such as Focus/Unfocus and Collapse/Expand Family,

On my wish list, I'd like to see an option to automatically format levels and an optional date field (just as the checkbox is optional).
Overall
Opal is a simple, flexible and useful outlining application which I suspect some people will end up not being able to live without. It's just the sort of application people will use in ways never imagined by its creators.
It won't be for everyone but if you are looking for a way to manage your thoughts, lists, ideas etc, then give Opal a look. 8/10