Review: Apple's Backup
I've long been a fan of Apple's Backup application. Even though to get the most out of it meant subscibing to .Mac, and sometimes I think I'm the only one using it.
But until my hard disk crashed a couple of weeks ago, I hadn't had the need to test it's restore function "in the wild." That experience proved almost as calamitous as the crash, although mostly, it wasn't Backup's fault.
About backing up
I have 20 years corporate experience either running backups or developing backup plans. The disadvantage of those 20 years is I also got into a particular mindset about how backups should be done. Backup fits that mindset of backing up files and folders and then restoring them as required. Next week I'll take a look at SuperDuper which snapshots your files and folders and then keeps that snapshot up to date. The difference isn't that great but enough to make me a little set in my ways and distrustful of the snapshot approach. Next week you can find out if SuperDuper has changed my ways.
If your data is important, then backing up is important, nay crucial, to understand. There's a couple of important things to do when it comes to backing up:
1) Backup regularly. This is relative to how often your data changes and how important it is. I personally backup my most important files daily and lesser ones weekly.
2) At a bare minimum, have two alternating backups. NEVER EVER rely on one backup set alone. (This is what saved me.)
3) Test your backups! (This was my biggest failing.)
There's three types of backup
1) Full - All selected files are backed up every time.
2) Incremental - Of the selected files, only files changed since the previous backup are backed up.
3) Differential - Of the selected files, all files changed since the last full backup are backed up.
Apple's Backup doesn't offer Differential and uses Incremental automatically. Undoubtedly this is to save time and storage space for the target audience—the home user.
Backup
With Backup 3, Apple took some steps in the right direction with backups. Backup 3 has been made even easier to use, with some useful preset backup plans.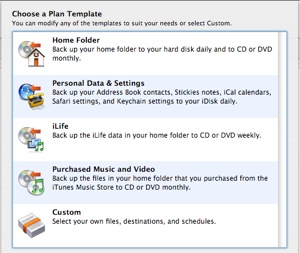 Backup is a relatively simple operation. You select the files to backup, select a destination and select a schedule. Being good Apple software, Backup doesn't complicate this process—and those presets can make it even easier.
Backup's biggest advantage is that it's from Apple so it integrates smoothly with .Mac's iDisk and the key data on OS X systems. The "Personal Data & Settings" preset plan for example, which backs up that data to you iDisk, is very useful.
No matter what backup application you employ, you should have some storage totally off-site. iDisk and the like is one excellent way of doing that, although not practical for large amounts of data. And don't keep your backups in the drawer beside your computer. Don't even keep them in the same building. You can't restore if your computer and backups get burnt in the same fire. If you're a home user, as a minimum, keep them in a shed that's detached from your house. If your files are sensitive though, do lock them up. If you're a small business operator, as a minimum take them home if that's reasonable, otherwise find a secure storage operator.
One thing I like about Backup is that you can schedule a single backup to use different destinations on different schedules.
Restore is almost as easy, as good restore paracice goes, you should always select the option to restore to different location.
Backup's Drawbacks
Backup does still have some issues. And some of them don't rear their head until you try to do a restore. The restore function does work - provided the backup set is all okay.
Some problems I found are:
Backup doesn't allow the option of incremental or full backups. As it says in Backup's help file:
The first backup of a particular set of files is a full backup (all files are backed up). Subsequent backups are incremental—that is, only the changed files are backed up. Incremental backups take up less space than full backups.

You can force a full backup at any time. For example, if you regularly back up to CDs, you might want to start over with a complete backup so that the restore process requires fewer CDs.
If you're backing up to CD, I'd say you don't want incremental backups at all—the last thing you want is having to keep track of a pile of CDs. You just want to go to the last CD. But if you're backup's that small—it's not a problem anyway. It will mean you will have to turn off the automatic scheduling of those backup plans and use the "Full Backup "process found on the File menu.
Personally, I'd recommend running a full backup every fifth time no matter what media you're backing up to.
Backup's scheduling is a little limited, for example you can't specify alternating days, such as Monday, Wednesday, Friday. Nor can you have different schedules for the same destination. That means, if you want to run alternating backups, you have to duplicate the backup plan—and given the lack of a duplicate option, that can be tedious for more complex file selections.
One particularly strange oversight in Backup is that monthly backups only allow you to choose from the first 28 days. For those wanting to produce an end-of-month backup, that is useless for 11 months of the year unless you schedule the backup to run at 12:01am on the first day of the following month.
Backup's biggest issue is the lack of verification. As it relies on incremental backups, and as some users have found, one dud backup—which you may not discover until you try to do a restore—and you're whole backup is unusable. You can manually trawl through each backup's package for your file, but that can be somewhat tedious to say the least and has it's own risk, with potential resource fork problems.
Reading some "horror stories" on the internet about Backup's restore, it seems most users haven't tested their backup; relied on one backup set only; and/or didn't do a full backup often enough. Apple and Backup can't be blamed for poor backup practices by the user. My own restore would have went much more smoothly if I had tested my backups.
No software can claim it's backups are foolproof, so how do you know if a backup is going to fail a restore? You test your backups. Good backup software can verify a backup at any time, not just after the backup. Apple's Backup doesn't provide any testing or verification so you'll have to do it yourself.
Testing your backup
Without the verification, you will have to manually test your backups. This doesn't mean you have to totally restore every file. Pick 20 or 30 randomly from across several folders and of varying times since they were last updated. Each time you test, pick different files. And ALWAYS select the option to restore to a different destination.
If any test fails, make sure your next backup is a full backup.
You can't blame backup software that can't restore from a corrupt backup set, although Apple's Backup could do a better job of identifying the problem. There should be a notice such as, "One of the backups in your backup set is damaged. Restore cannot be completed." But instead it just aborts saying it couldn't complete the backup. In that situation, who wouldn't blame the software?
Overall
Backup 3 is a significant step in the right direction for Apple. The issue of verifying backups does need to be addressed, and this function should be available at any time, to any backup set. An option is also needed to force full backups always, or even better, an option to force a full backup after a certain number of incrementals - although of course, the user should be prompted when that is to take place.
Backup is still evolving and hasn't reached maturity yet. For the average home user… what else is there that's any easier though? Hopefully Backup 4 will solve most of the remaining issues.
I would say one thing to Apple, the umbrella icon Backup uses is not a good metaphor for backup. Umbrellas are not known for their reliability when conditions get a bit rugged. But in some ways it does sum up where Backup is at the moment.
Despite my negatives, I still recommend Backup, but test your backups regularly, don't rely on one backup set, and do a full backup regularly. Of course - those rules apply no matter what backup application you use.
Overall, I'll give Backup a 6/10